Rail fans rejoice! "The End of the Line – Rochester's Subway" is now for sale through the Animatus Studio website and Amazon.com. To purchase this special edition DVD for only $24.95, CLICK HERE.
"The End of the Line – Rochester's Subway" tells the little known story of the rail line that operated in a former section of the Erie Canal from 1927 until its abandonment in 1956. Produced in 1994 by filmmakers Fredrick Armstrong and James P. Harte, the forty-five minute documentary recounts the tale of an American city's bumpy ride through the Twentieth Century, from the perspective of a little engine that could, but didn't.

A documentary with national appeal
Press coverage 2005 | Press coverage 2006
New York Archives article: The End of the Line
AMAZON VIDEO STREAMING
The documentary is now available to rent or buy on Amazon Video Streaming!
Q & A with the Filmmakers
Our DVD premiere screening was a huge success! Thanks to everyone who came out and helped to make it such a memorable evening.
We're happy share the audio from that evening. The following audio includes information on the documentary's backstory, the possibilities for the future of the subway, and special thanks to all who helped us on the project.
Thanks to Dan Reardon, Paul Tracy, and the Rochester Audio Visual Association.
---
DVD Overview
Animatus Studio has remastered the original documentary (previously only available on VHS) and included 45 minutes of new features.
THREE ALL NEW FEATURETTES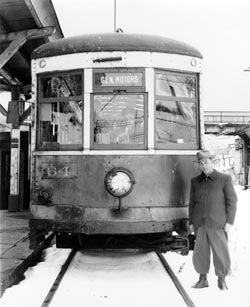 * The Steel Wheel
Experience a round trip ride on the subway as it existed in the 1950s.
* Prodigal Son – Rochester Car 60
Video of the subway's last surviving passenger car and an all new interview with one of the last motormen.
* Motherless Child – Remnants of the Subway
A look at the subway as it exists today. Includes a "phantom run" through the abandoned Broad Street tunnel.
PHOTO ARCHIVE
A library of 150 still images.
CLOSED CAPTIONING
CHAPTER SELECTION
OUTTAKES
SUBWAY MAP INSERT
As originally seen on the History Channel and WXXI-TV, PBS Rochester!
With music by world-renowned composer Philip C. Carli and Rochester's traditional music duo, The Dady Brothers.
---
"A superb job of telling the story in a professional, quality work… describes the political and economic forces that resulted in almost 30 years of service, and accurately acquaints us with details of the line, equipment, operating problems, and human interest elements."
Jim Dierks – New York Museum of Transportation
"A fascinating bit of Rochester history."
Jack Garner, Gannett Newspapers
"For this fan it is the most satisfying transit video I've yet viewed and purchased."
John McCarthy, Trolley Talk, Cleveland, OH