Animatus Presents
The Short Films of Skip Battaglia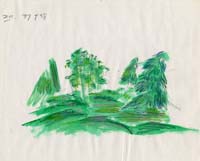 NEW! Original Skip Battaglia artwork is now for sale in the Animatus Store
---

"Car Crash Opera"
a fully animated film with an original opera soundtrack, color, (7:45)
libretto, animation, and production: Skip Battaglia.
music composition: Micheala Eremiasova and Jairo DuArte-Lopez.
Car Crash Opera is constructed as an homage to that paragon of American cinematic art form staples — the car crash film. But this is sung as an opera, with seven characters, graphic and musical flourishes, poignant interludes, orchestration, and sound effects. Car Crash Opera plays between the funny and tragic, the graphically beautiful and terrifying, an all musical mechanical pileup, and more sublime than ironic. The soundtrack is as romantic and oversized as the visual elements of the film, all in a contemporary constructed extravaganza, a CAR-tune.
There are four separate vehicles which terminate in a traffic conflagration: a mother and young child delivering a birthday cake; a cigar-chomping contractor delivering chickens and pigs with his pickup truck; an amorous couple drinking and fondling; and two scattered teenage speedsters angered at being cut off.
Battaglia begins from a soundtrack before initiating the drawing of animation. A libretto was written and a timeline constructed on a roll of wallpaper, and both presented to Eastman School of Music Ph.D candidates in music composition Michaela Eremiasova and Jairo DuArte-Lopez. Eastman School of Music students sang the roles and played all orchestral pieces. Musical sound mix was accomplished by Paul Coleman at the Eastman School of Music and at the School of Film and Animation, RIT.
Skip Battaglia's animated style in this project is much like in his "Boccioni's Bike" (1981) and "Second Nature" (2000). The graphic elements are treated in special regard to a moving edge of action which is animated, a style considered "Futurist" by Battaglia's reviewers. Primarily the action, not the object, is animated against a jittery and "nervous" background. It is a fine art, independent and personal animation style.
The College of Imaging Arts and Sciences at RIT funded the writing and performance of the music with a Faculty Development Grant. Battaglia is Professor in the School of Film and Animation at RIT.
Visit www.skipbattaglia.com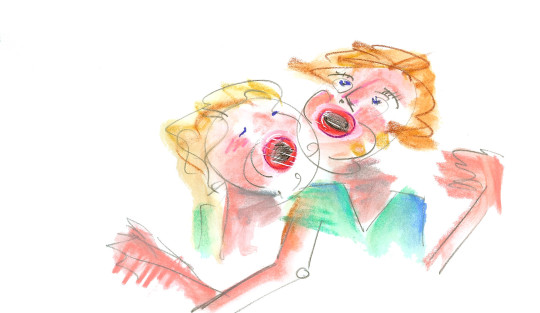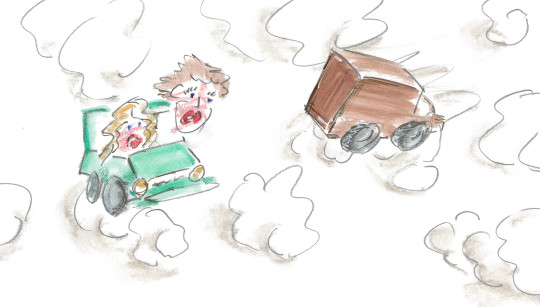 ---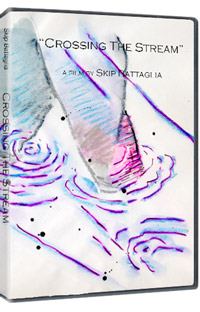 Crossing the Stream
A Film by Skip Battaglia
USA / 04:00Experimental/Abstract Animation
Ink on paper, Pastel on paper, Pencil on paper
About work. About consciousness. A mediation on water, and the animation of water. A poem in the shape of a stream. For Bruce Baillie.
"Best Animation": independent film category. ASIFA-East (NewYork,
USA)
2nd Place and cash award: Sarah Lawrence Experimental Film Festival,
Sarah Lawrence College, Bronxville NY, USA
Director's Citation Black Maria Film Festival
Buffalo – Niagara Film Festival
Ann Arbor Film Festival, Ann Arbor, Michigan
Kalamazoo Animation Film Festival (KAFI), Kalamazoo, Michigan
Rooftop Films and Rural Route Film Festivals, New York
Melbourne International Animation Festival, AUSTRALIA
Australian International Animation Festival, AUSTRALIA
New Zealand Film Festival, NEW ZEALAND
Taiwan International Animation Festival(TIAF), Taipei, TAIWAN
London International Animation Festival, London, ENGLAND
Visit www.skipbattaglia.com
---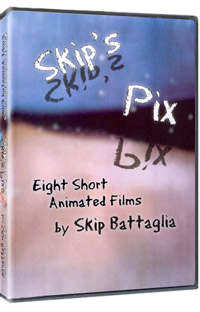 Skip's Pix
"We must all re-invent filmmaking"
DVD Contents:
"Boccioni's Bike" (1981)
"Parataxis" (1980)
"How the Frog's Eye Sees" (1984)
"Geologic Time" (1989)
"Restlessness" (1994)
"Taki Dom," with Julie Ann Jergens and Dan Pejril (1997)
"Second Nature" (2000)
"More True Shit" (2003)
Independent animator Skip Battaglia has been making animated films for 25 years. These eight selected works are handmade, drawn on paper, and fully animated in Battaglia's pulsing "push and pull" style — colorful, explosive, alternating between extravagant and delicate, and always rhythmic.From the Futurist inpspired "Boccioni's Bike" to the cartoonish "Second Nature" and the computer-assisted "More True Shit," these films provide invitations to new ways of seeing and working in the graphic arts in motion. Battaglia provides commentary version of all films, including insights to the production and aestheics of these animations.These exciting and different films give Skip Battaglia great pleasure, as they will any animation enthusiast. This disc will surely be an important part of any animation lover's library.


WARNING! Not all material is appropriate for children. this collection features adult content and is intended for mature audiences only. There are no dancing bunnies in these films. Some content has animated nudity. Thes animated short films have not been rated.

Visit www.skipbattaglia.com