Visiting Artist Program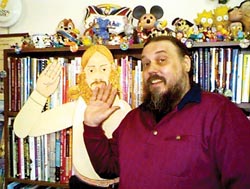 Would you like a chance to see your drawings come to life? Dave Puls, B.F.A., Creative Director at Animatus Studio, teaches the art of animation at schools and recreation centers in the Rochester area.
Young artists can create and design their own characters, animate them, and see them come to life. Dave will record the animation and on the last day will present it with music for all to enjoy. What an opportunity to experience the joy of animation while learning from an award-winning animator!
Please contact Animatus with any questions you may have. We're open to tailoring the program to your organization's needs.
Are you a teacher interested in hosting an animation program for your class? Dave Puls of The Animation Workshop can come to your school in conjuction with Young Audiences of Rochester.

Contact YAR at (585) 530-2060