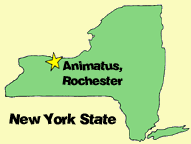 Where are you located?
Animatus Studio's address is 34 Winthrop Street in Rochester, New York, 14607. We are down the street from the Little Theater right next door to the "Two Vine" Restaurant. If you're from out of town, you may be surprised to learn that Rochester is not a suburb of New York City. In fact, we're about a six hour drive from Manhattan.
Click here for directions to Animatus
How do I make a purchase using PAYPAL?
We accept payment for our products and workshops through Paypal, which works like an online checking account. You DO NOT need to be a member to make purchases, just own a major credit card. If however, you would like to start a Paypal account, that may take a few days, depending on the type of account you choose. Once that is out of the way, you can shop at our site and plenty of other places. (Paypal is very popular with Ebay users.)
If all that sounds too complicated for you, you can always print out an order form and send it with a check to: Animatus Studio, 34 Winthrop St., Rochester, NY 14607.
I live in Antarctica. Can I take your animation workshop?
From time to time we get "long distance requests" to take our workshops. Remember, our classes are not associated with any college program, so there are NO credits or diplomas attached. Also, the classes are typically once a week for four weeks. Still want to rack up the frequent flyer miles? It's okay with us if it's okay with you.
What's the difference between the Saturday and Summer workshops?
Saturday workshops take place over four weeks (students choose either morning or afternoon) and cost $159.00.
In contrast, our Summer workshops take place on weekdays (students choose either Wednesdays or Thursdays). They last from 9:30 till 3:00, with a break for lunch. To help work around students' summer schedules, we offer these classes for a per-week charge of $88.00. There is a 20 percent discount for taking four classes, for a total of $284.00.
Do you teach 3D computer animation?
On occasion, we do offer an Introduction to Lightwave course. See the Workshop schedule for dates.
Can you recommend a 3D computer graphics program?
We like 3D Studio Max. Some other good programs are Lightwave and Maya. See our links page for more.
Can you recommend a good college for animation?
Some schools with exemplary animation programs include the School of Visual Arts, Edinboro, The Art Institute of Pittsburgh, Sheridan, and local favorite R.I.T. See our links page for more.
Can I have a job?
Animatus is not hiring at this time, but we do take on non-paid interns occasionally. Usually college students, these eager minds help us with in-house projects and gain experience working in an animation facility.