Website &amp DVD © 2004
    Animatus Studio
    All Rights Reserved


It's Fun-believable!
Three Cartoon Series on One DVD
Journey to ancient Norway with Derf the Viking!
Dance at Club Hippendale's with Su & Mo!
Sing along at home with Fresh Toones!
For more than 15 years, Animatus Studio has been the premiere animation house in Rochester, New York. Now their three unique independent series of cartoons are available to own in one landmark DVD package. These cartoons have "PG" style humor and appeal to old and young alike.

This compilation brings together the Derf the Viking Trilogy and Fresh Toones, which have screened at festivals all around the world, and Su and Mo, the most popular lap-dancing wrestler-animators on the internet. "It Came From Animatus" collects each series, plus many crowd-pleasing extras like featurettes, pencil tests, and filmmakers' commentary. All material has been digitally mastered for the DVD format, with sparkling stereo sound.

This website contains information about the DVD release, as well as links to special online material about Derf, Su &amp Mo, and Fresh Toones. So take a look around, watch the trailer, and buy your copy today!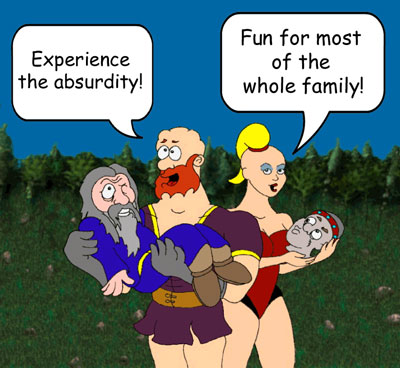 WHAT'S NEW
3/20/09

Check out a musical remix of Derf's adventures by Dave Puls:
"Just Make Me Laugh" on Youtube.

3/20/09

We haven't made updates here in a while, but rest assured, we're still selling the DVD!

11/30/04

11/12/04

New avatars are available for download on the Pics page.

11/11/04

Updated the Specs page with more in-depth details about the disc.

9/28/04

The DVD is for sale in several Rochester stores. Visit the Buy page for the full list.

9/27/04

9/27/04

We're back from the Ottawa International Animation Festival! We screened several shorts at the Nelvana party and had a great time talkin' about the biz.

9/17/04

Our first run of discs arrived today. The covers and inserts look great, and they play without a glitch. Discmakers did a fantastic job.

9/13/04

9/10/04

We are now accepting orders. Buy the DVD through our website today!

8/30/04

Specs, extras, and cover art have been posted online.

8/27/04

Our DVD Master is off to the replicator! In about three weeks we should have our first run of discs ready for public consumption.
Animatus Main Page | It Came from Animatus | News | DVD Specs | Extras | Pics | Buy