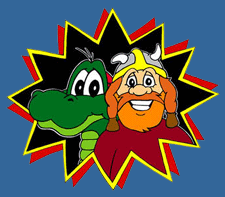 "...I must admit to a certain amount of affection for the 'Derf the Viking Trilogy.' Many of the characters, especially Derf and Odinn, are truly memorable comic creations and their stories are often quite surprising and original."
-- Daniel Wible, Film Threat
We're getting some great responses to Derf!
Read the Film Threat review.
Read Jack Garner's review from the Democrat &amp Chronicle.
If you're a reviewer who'd like to check out a screener copy for your website or publication, drop us a line! If you've arrived at this page via a direct link, be sure to check out the rest of the Derf Site. We offer video clips, behind-the-scenes secrets, and info on film festival screenings.
Press contact: Fred Armstrong
Email: Visit our Contact Page
Phone: (585) 232-1740
Snail mail: Animatus Studio • 34 Winthrop Street • Rochester, NY 14607
Publicity Pics: Feel free to use any of the pictures on this page or click them for even larger versions.
---
Distribution
The Derf the Viking Trilogy is currently available as part of the It Came From Animatus DVD collection.
If you know of an online e-tailer or a store in your area that would be interested in carrying this product, let us know!